Bradford

High School




Class Of 1963
Did you know you can send a private
message to a classmate thru this website?
Click on "Class Members" at left, then
click on classmate's name and "send private message".
I am very sad about Joanne as well as the loss of about the other 10% of our class which have passed. Reading some of these memorial comments, I feel that maybe this would be an inspirational and motivational time for all of us to consider looking back at those pictures in our yearbook and sending a short note of fond remembrance or even well wishing to those that are still with us. We all know life is filled with unspeakable secrets, broken dreams, and unforgettable loves, but let's try to repair or prevent a few of our potential irreversible regrets when remembering our own.

Finally, as I may have written before, I received a phone call a year ago from a scrawny little childhood friend urging me to at least once return to Kenosha from my last 50 year absence to attend the 50th claass reunion last Sept. This kind thought brought me to the realization I had to once more visit my Kenosha roots to remember those first 13 formative years right after my family immigrated there in 1950. This 3 day visit last September made an impact on me to pass on those great memories to my 2 daughters and 2 grandchildren. For this, I want to thank Frank Nedry for his short call to me and reaching out to prevent an irreversible regret I might have had. A garden of memories blossomed ....

My best wishes go out to all of you, my 1963 classmates. Victor Matich
The next lunch is scheduled for Saturday, May 3rd
at 11:30 a.m. at the Boat House. New people join each
month, so come and renew old friendships!!!!!
Someone will be delighted you came.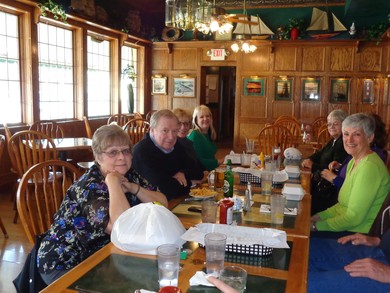 Attendees at the March 15th luncheon are l to r: Kathy Petersen Jennings,
David Mann, friend of Mary, Mary Howard Chang, Sue Riemer Robbins,
Evelyn Kanocz Carver , Betty Alli Kriederman. Also attending were Mike Putrynski,
Martin Moskopf, Jim Matzur and Donna Robertson Antonetti
You can still order a DVD of the Reunion.
Simply call Raines Video at 1-800-654-8277.
Price is just $33.95 and worth every penny!

Music accompanies this page. Click here to listen.
Cinderella is proof that a pair of shoes
can change your life!