Bradford

High School




Class Of 1963
UPCOMING BIRTHDAYS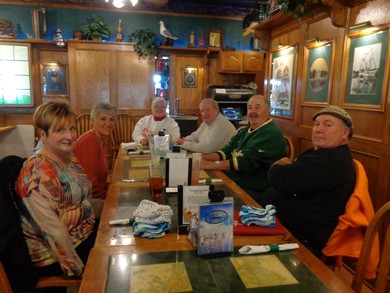 Nana Simons LoCicero, Betty Ali Kriederman, Kristina
Winberg Campbell, Dave Mann, Bob LoCicero and Buzz Ogren.

THANKSGIVING DAY--Some things should never change

It has been a year since my last tribute to this meaningful holiday from my prospective as an immigrant to Kenosha in 1950. This time I want to give a more passionate message from a prospective of a classmate who gives thanks everyday for being alive and having this thread of communication with past memories of Kenosha.

Every morning I swing my legs out of bed, go to the kitchen and heat the pot of water for a cherished cup of hot coffee. I take inventory; eyes-a bit blurry, but basically working; legs-a bit stiff and wobbly, but still mobile; memory of what to do today, wait, let me have my coffee first. So, all intact and even as important, I'm still eager after all these years to make something special happen during another day on loan from our creator.

Thanksgiving Day was always a huge affair when we were young and this tribute to "the family gettogether" seemed to cross all lines of culture, ethnicity, age,interests, etc to celebrate our gratitude over a meal around a table with family and friends ready to pounce on the bird in the center. Through the years, memories and significance of this festive union of family and friends still are alive though being slowly eroded through attrition caused by father time. Still working and engaging weekly with many, many people mostly "millemials" in this city of 6.5 million, I see this holiday being methodically diluted by a waning interest in traditional family values and apparent glorification of other more dynamic aspects of this fast paced tech world. And, I constantly hear the dreaded phrase, "everything is evolving" so we should embrace the changes. Okay, I get it, and am embracing...yet, some things should still be held in suspended animation by all generations; especially Thanksgiving Day and Christmas, both the foundation of this great country.

To me, family still consists of at least one parent, grandparent, siblings, and lets add our dearest friends to the mix, though distance and circumstance will only allow a phone call. Then there is the 2nd tier we should try to remember and connect with before it is too late. Specifically, it is the group that we were raised with in schools and later life and have drifted away or perished(such a hard word). The unfortunate thing of a really extraordinarily large high school class, is there is the continual mention of a passing classmate and the soft spoken comments on our site.

In closing,(I know you are "grateful") let me appeal to you all once again to relish and celebrate this upcoming 69th or 70th Thanksgiving Day, cherishing the memories of what we were so fortunate to have had. And, (yes, there is always an "and")remember to glance thru our yearbook and somehow connect with those classmates that provided a fond recollection during our fabulous time at Bradford. There may not be another opportunity to do so....Just for old times sake, here is melody I have always loved, and you might enjoy...again. (A bit too overtly romantic, but I feel this is was a time when and where we probably discovered the greatest of all human emotion.
https://www.youtube.com/watch?v=R3GenN1WU-I

Wishing you all, good health, continued successes, and peace of mind... Vic
Next alumni lunch will be held on
Saturday, January 10, 2015.
Boat House - 11:45 a.m.
We'd love to see you!
Mark your calendar!!!
70th Birthday Party Picnic
Saturday, September 12, 2015.
More details to follow!
Florida 70th Birthday Celebration
Friday night, April 24th, beginning at 5 pm.
La Grotta Restaurant in Fort Myers, FL.
Contact Joyce Remus for further info!

Music accompanies this page. Click here to listen.
Encouragement is a renewable resource.
The more you offer up to others,
the more encouraged you'll feel.