Bradford

High School




Class Of 1963
UPCOMING BIRTHDAYS


Our Music Man, Frank Nedry, has posted new music for your enjoyment.
"Hello Classmates and a Happy New Year to All!! I know that this past year was a long and trying one so I'm punching up some music to entertain, to inspire and to lift our spirits. If you've never heard of Eva Cassidy you are in for a special treat and I send all of this music to you with the heartfelt gladness of being part of a great group of friends. Enjoy." Frank
Well, another year is bringing us closer to heaven. As usual we enter it with high hopes for good health and prosperity for ourselves families and hopefully all our classmates many of whom are awaiting us already as well. (There might be a couple though experiencing everlasting "global warning" conditions.)

I personally wish you all the ability to keep ant hills from becoming mountains. Dont let troubles become misery and consider how fortunate we are to have a great Wisconsin team in the NFL playoffs....

And finally be grateful that we have such a great bunch of classmates and sweet memories of our formative years in the great city of Kenosha.

Happy 2017!
Vic Matich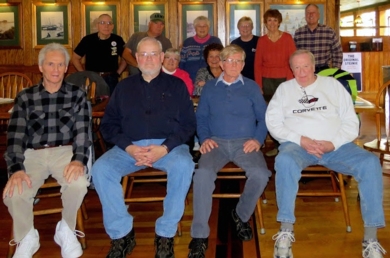 Front Row, Left to Right: Frank Nedry, John Lubniewski,
Roy Warnock & Dave Mann
Middle Row, Seated: Kris Winberg Campbell &
Cassie DiCello Turco
Back Row: Bobby Brown, Buzz Ogren, Sue Seiderman,
Donna Robertson Antonetti, Betty Alli Kriederman, Dick Seiderman.
The next class lunch will be held on
January 14, 2017,
at the Boat House - 11:45 a.m.
All classnates are welcome.
Bring a friend!!
A simple hello could start
a million things!
We all took different paths....
But every dirt road we've walked will lead us back to the friends that know us best.
The ones that will help you up and slap the dust off, without being asked".
~ T. Warne